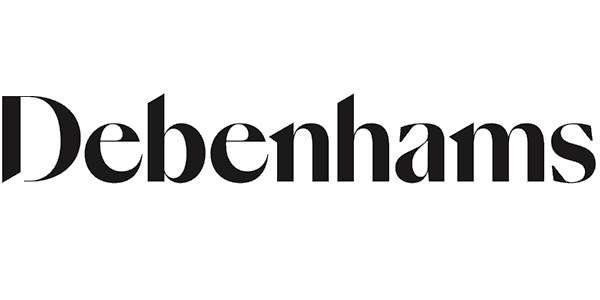 About Debenhams
Debenhams was a large department store chain with 178 locations and one of the most well known high street retailers. It now stands as an online shopping department store and no longer has its original high street presence. Dating all the way back to 1778, Debenhams was formed by William Clark who originally began trading in London as a drapers store. William Debenham became a partner in 1813 changing the corporate name to Clark & Debenham. The business was eventually incorporated as Debenhams Limited in 1905. Over the years Debenhams has had many offers and interest to purchase the business by United Drapery Stores, Sears plc and even Tesco. The largest British Debenhams store was opened at the Bull Ring shopping centre in Birmingham in 2003.
In 2018 the company announced the largest loss in its history, a pre-tax loss of £491 million. After this, many stores were closed and Debenhams was to face financial difficulty. In January 2021 it was announced that Boohoo had bought the Debenhams brands and website. None of the original 118 stores were retained which resulted in serious job losses. The Debenhams website was relaunched in April 2021.
---
What does Debenhams sell
Beauty
One of the best online department stores for its selection of fragrances from brands like Marc Jacobs, Diesel, Armani and Lancome. Shop premium makeup brands like Benefit and Elizabeth Arden. Debenhams also have a great range of skincare as well as competitive prices on beauty related electricals.
Womens
Debenhams have a huge range of womens clothes, we find it best to shop by collection. Browse outfits for work, weddings, parties and even festivals! The wedding selection is particularly strong, with Wedding dresses, bridesmaid dresses and a selection of outfits for the mother of the bride and guests.
Mens
Find a large collection of swimwear, nightwear, hoodies, jeans, trousers and whole outfits. Top brands include Bench, Ben Sherman, Burton, Lyle & Scott, Raging Bull and Jeff Banks. Debenhams have a large selection of watches, jewellery and other accessories as well as trainers, loafers, brogues and slippers.
Kids
For babies you can shop accessories, baby girl and boys clothes, baby shoes and whole outfits. You'll also find everything you need for older children with brands like Hype, Monsoon, Accessorize, Threadboys and Threadgirls
Home
We love the huge collection of bedroom furnishings Debenhams offers. Lots of high quality bedding sets from Catherine Landsfield, Linen House, Sheridan and Slumberdown. For the kitchen you can shop cookware and tableware from Pyrex, Russell Hobbs, Mason cash and more. Decorate your house with wallpaper, candles, mirrors, cushions and curtains. All the furnishings you can think of are available to browse and we love the collection of Yankee Candle products.
Electricals
Debenhams offer a wide range of home electricals like toasters, coffee machines, irons and kettles. Top brands include beko, Salter, Tefal, Tower and Beldray.
Debenhams also allows you to shop by brand. This is very easy to use and you can browse their full directory to find offers on your favourite brands.
---
Debenhams contact information
Debenhams has an easy to use customer service page complete with FAQs, product information and tips on account management.
If you do need to get in touch with Debenhams directly you have a few options. You can send them a message through Apple messages, message them on Facebook or get in contact through Twitter. You can find easy access to all contact options here.
Debenhams does not have a contact telephone number
---
Debenhams FAQ
How do I track my Debenhams order?
You can easily track your order one the Debenhams website. All you will need is your email address and order number. Your order number can be found in your confirmation email. If tracking shows that your parcel is being returned to sender because delivery was not possible, you will be refunded when the parcel returns to Debenhams.
How do I return a faulty item at Debenhams?
If your item is damaged or faulty then you are entitled to a refund or exchange. Head over to the Contact Us section on the Debenhams website for help on getting this fixed. To make this process easier make sure you are able to provide your name, order number, product name and code, picture of the fault and a description of the fault.
When is the Debenhams Blue Cross sale?
Perhaps the most famous sale from Debenhams is the Blue Cross sale. This usually runs three times a year with varying dates. Going back through the last 5 years, Debenhams has always run one of their Blue Cross sales in January. The other Blue Cross sales tend to run in the Summer between June and August and later in the year.
Why isn't my voucher code working at Debenhams?
Debenhams often have promos running on site. If you're having issues applying a promo, make sure you enter the code exactly as it appears on site. Be sure to check the end dates of any promotions as they will all have strict time limits. Only one code can be used per order so if you already have a code applied you won't be able to stack another promo on top of this. If you are using a delivery related promotional code please make sure you have selected the correct delivery method for the promo to work.
Does Debenhams have a Black Friday sale?
Debenhams does take part in Black Friday and Cyber Monday. You'll find a range of offers during the whole week of Black Friday and should expect to see deals on dresses, home, beauty and gifts. Keep an eye out for cheap prices on beauty related electricals. Black Friday at Debenhams falls on Friday 25th November 2022, Friday 24th November 2023 and Friday 29th November 2024.
What is the Debenhams return policy?
Debenhams offers a 14 day return period. The 14 day period starts the day you receive all of the items in your order. Items must be returned within 28 days of receipt. Debenhams cannot offer refunds on fashion face masks, cosmetics, pierced jewellery, swimwear or lingerie.
---
Debenhams useful links
Debenhams Website
Debenhams Contact Page
Debenhams Twitter
Debenhams Facebook
Debenhams Boohoo Sustainability Plan
---
Debenhams shopping features
Debenhams offers an extra 10% student discount on selected brands. You can grab these discounts by signing up for free with Student Beans.
If you are a regular customer at Debenhams, you can grab Debenhams Unlimited. This provides unlimited Next Day Delivery for 1 year. Prices vary but you can sign up and find all the info here. Prices usually hover between £9.50 and £20.
Debenhams Beauty Club gives you exclusive access to special offers, points to spend on your favourite brands and even inside knowledge on the latest launches. Shop more to move up the tiers and get more benefits!