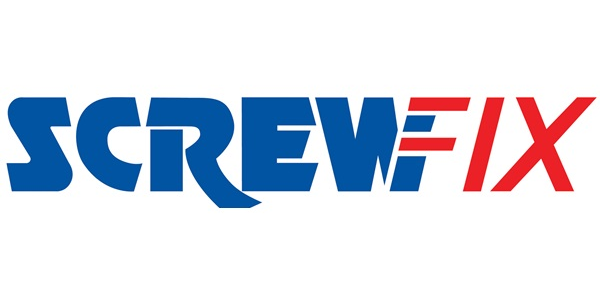 Screwfix History
Screwfix is one of the UKs largest retailers of tools and hardware products. Part of Kingfisher plc, it boasts over 1,400 stores and over 80,000 employees.
Screwfix was originally founded as the Woodscrew Supply Company in 1979. In 1992 the first catalogue under the Screwfix Direct name was made. Between 1992 and 1998 turnover essentially doubled year on year before the company moved to a Houndstone Business Park in Yeovil.
The Screwfix website was launched in 1999 and the company was acquired by Kingfisher plc. In January 2000 trading hours were extended to seven days a week, before next day delivery options were introduced in mainland UK later that year. Screwfix continued its expansions through the years, with the website attracting up to 7 million unique visitors a week.
In April 2013 Screwfix launched the Screwfix Foundation. The charitable projects of the Foundation include repairing and maintaining community buildings for those in need. The Foundation donates to local charities throughout the UK and has donated over £10m between its launch and 2022. In 2013 Screwfix won the Gallup Great Workplace Award for its top quality workplace and employee happiness. They have won numerous awards over the years, including Multi-Channel Retailer of the Year and Employer of the Year in March 2016. In 2017 Screwfix was also awarded the Retail Week Award for Customer 'Experience Initiative of the Year'.
---
What does Screwfix Sell?
Screwfix is always expanding its stock to cover all of your DIY & home improvement needs.
Tools
Find a selection of power tools, hand tools, testing tools and equipment. You can also shop a great range of tool boxes and storage options to keep your shiny new tools clean and tidy.
Heating & Plumbing
Shop towel, column and designator radiators along with valves and other accessories. Screwfix even sells boilers, heat pumps and underfloor heating. Find all the water accessories you need like pipes, toilet spares and kitchen and gas fittings.
Electrical & Lighting
All the electrical accessories you need like switches and sockets, junction boxes, electrical testers and more. Screwfix also stocks plenty of domestic electrical accessories for data networking, electric vehicle charging and more. Plus, find smart lights, bulbs, tube lights and both indoor and outdoor lighting.
Bathroom & Kitchen
Kit out your whole bathroom with showers, toilets and taps. Upgrade your bathroom to make it more accessible with grab rails, shower seats, accessible basins and more. Any part or accessory you can think of for your kitchen or bathroom.
Outdoor & Gardening
Screwfix have a great selection of garden power tools including lawn mowers, trimmers, pressure washers and log splitters. You can also work on those outdoor projects with decking, fencing, ponds and even railway sleepers!
Screws, Nails & Fixings
Perhaps what Screwfix is most known for, here you can find pretty much any screw, fixing, bolt or nail you can think of. From roofing screws to security screws, this is the largest selection you'll find online in the UK.
Security
CCTV systems and cameras are a great way to keep your home safe. You can also find burglar alarms, fire alarms and PIR sensors. Secure your home with padlocks, safes, window locks, camera doorbells and security lights.
Building & Doors
Looking to build that extension? Look no further! Screwfix stock building tools, plaster, loft insulation, aggregates, disc cutters and more. You can also find a huge selection of doors, wardrobe fittings and garage doors.
Safety & Workwear
Look the part and stay safe with safety boots, trainers and safety shoes. You can also find a wide selection of work trousers, hi vis products and both Summer and Winter workwear. Avoid injury with PPE including ear protection, eye protection, knee pads and injury and joint support.
Auto & Cleaning
Keep your car up and running with battery care, tool kits, headlamps and bulbs, brake tools and workshop equipment. You can also find van racking and roof systems, car covers, bike carriers and roof boxes.
Decorating
One of the largest paint selections around, stocking interior and exterior paints, primers, damp proof paint and specialist paints. Take care of your fences and decking with treatments and staining, not to mention you can find all the accessories you can think of when decorating.
---
Shopping Stats and When are the Screwfix Sales
Screwfix boasts a generous average discount across all items on Offeroftheday of 16%. The average price of products on Screwfix is £167.7, though this is likely to be affected by the large variety of high price tools and fittings for the home.
Screwfix has sales throughout the year, including Summer sales and a large selection of last chance deals. As Screwfix still has a catalogue, it has end of catalogue sales, where stock can be extremely cheap as it makes way for newer products and models.
Black Friday
Screwfix also has huge discounts around Black Friday. This lies at the end of November, with Black Friday 2022 falling on Friday November 25th. You are likely to find discounts from the start of November which run through to the end of January, with many boxing day sales starting December 24th. Screwfix also has options for savings when you buy in bulk so keep an eye out for these promotions on site.
---
Screwfix Store and Contact Details
Screwfix prides itself on great service for both its employees and customers. The provide a live chat 24/7 where they can help with all general enquiries as well as refunds and order status. With over 790 stores nationwide you can also pop into your local store for assistance.

General opening hours are:
Monday: 7am – 8pm
Tuesday: 7am – 8pm
Wednesday: 7am – 8pm
Thursday: 7am – 8pm
Friday: 7am – 8pm
Saturday: 7am – 6pm
Sunday: 9am – 4pm (NI 1pm-6pm)

Screwfix has a UK based Business centre that you can call if you'd like to speak to someone over the phone. You can call them on 03330 112 112. Demand tends to be quite high so the wait can vary quite substantially. There is also a contact form on site you can use to email the team
If you would like to escalate your enquiries or are unhappy with how your situation has been handled you can write to the customer resolutions team:
Customer Resolutions
Screwfix Direct Limited
Trade House
Mead Avenue
Yeovil
Somerset
BA22 8RT

---
What delivery options are available at Screwfix
With so many stores nationwide, click & collect is the easiest way to get your purchase fast. Click & collect is available from within 1 minute of your online purchase in some stores.
Screwfix also offers delivery direct to store, site or home. Deliveries to site/home currently stand at between 48/72 hours (as of August 2022). You can see your nearest available delivery day at checkout. These deliveries are between 8.30am and 6.30pm Monday - Sunday. Store deliveries are usually the next day if you order by 8pm on a weekday and 4pm on a weekend. Wait for your 'ready to collect' text to come through before travelling to store.
Standard delivery is FREE on orders over £50, and Sunday delivery is FREE on orders over £100. For orders less than £50, standard delivery is £5. Premium delivery is available for £10 for orders under £50 and £5 for orders over £50. Some restrictions may apply depending on your location so be sure to check the Screwfix site for affected postcodes.
---
Screwfix returns and cancellations
Screwfix offers a 30-day money back guarantee. You can take your unwanted items to your nearest store, or if a store is not nearby you can call 03330 112 112 to arrange a free collection. If a product develops a fault after this 30 day period, Screwfix will aim to repair or replace the item, or offer a price reduction or refund. For power tools Screwfix have teamed up with suppliers to offer a free, fast and reliable repair service available through customer services. This service is available for Mac Allister, Titan, Dewalt, Makita, Hikoki Hitachi, Bosch, Paslode, Milwaukee & Erbauer. You must extend your power tool warranty within 28 days of purchase. You can find a helpful FAQ along with all other details on the returns and refunds page
---
Useful Screwfix Links and numbers
Screwfix Website
Screwfix Contact Page
Screwfix Facebook
Screwfix Wikipedia
Screwfix Twitter
The Screwfix Foundation
Screwfix Sprint
Plumbfix and Electricfix

Arrange a free collection for return 03330 112 112
Customer services 03330 112 112
Business account enquiries 03330 430 050

---
Offeroftheday's top Screwfix highlights
Screwfix will take back Waste electrical and electronic equipment (WEEE) free of charge in any Screwfix store on a one-for-one, like-for-like basis. You are not obligated to purchase anything when returning old batteries. Waste batteries including rechargeable batteries are taken back free of charge. If you have ordered an electrical item for home delivery and would like to return your old like-for-like product, please call 03330 112 112 or email online@screwfix.com within 28 days of purchase to arrange collection.
Screwfix now offers Screwfix Sprint. In some areas you can get delivery in 60 minutes on over 9,500 products. There is no minimum spend and you can track the order to your door. This is available on the Screwfix app only. You can check the app to see if you are in a Sprint area.
Screwfix offers a quicker way to shop with the Screwfix card. The code on your card is unique to your account. When scanned at a till it will quickly bring up your account details.
There are a number of trade credit account options available, check out the website for more details.
Screwfix is listed with the IMRG as a 'Safe Shop'. This means it provides clear delivery information along with convenient delivery options. Notifications of any delivery conditions will be provided. You will have access to information on your order progress along with helpful support with failed/late deliveries. It also means that Screwfix boasts a very clear returns process.