Updated: 07/10/2022 08:07:56
Tried & Tested: Asda Rewards
With many of us looking for cheaper supermarket alternatives, we try the new Asda Rewards App where the savings are pounds, not points.
Laura Jenkins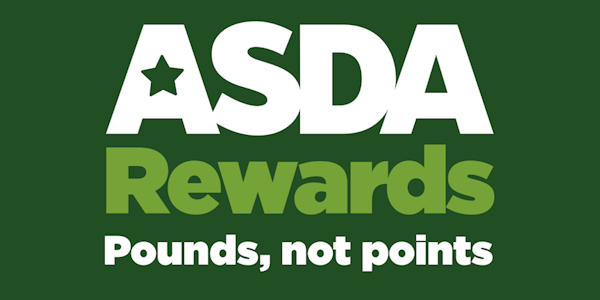 Unlike other supermarkets, Asda isn't known for its reward schemes. It hasn't previously offered any point incentives to encourage shoppers through the doors, it has relied purely on its low pricing. But in August 2022 Asda launched its new Rewards scheme and we must say, we love it.
How do other Supermarkets reward shoppers?
Sainsburys - has traditionally offered Nectar points at 1 point per pound spent, with each point being worth 0.5p. However, Sainsburys has paired with a number of retailers and websites including Ebay, so there are a huge number of ways to earn points outside of shopping directly in Sainsburys. Sainsburys also offer their members coupons and discounts on products based on your shopping habits and there are extra savings to be made through SmartShop.
Tesco's - also offers their Clubcard at 1 point per pound spent, but each point is worth 1p. They also offer Clubcard member prices, giving you immediate discounts in store.
Morrisons - has removed its points system and now offers coupons and discounts with My Morrisons.
Co-op - offers rewards back when shopping in-store. You'll also be able to grab exclusive offers and vouchers in the app and quite often at the checkout you'll be given an extra coupon after scanning your card.
Lidl Plus - offers you a spend & save experience, earning coupons off your shop when you hit spending thresholds. You'll also find coupons in the Lidl app for specific products. Some examples we've seen are 30% off bakery products and 15% off stonebaked pizzas. These coupons run for fairly short periods of time so you'll need to be quick!
So how do you earn Asda Rewards?
Unlike traditional reward schemes, where there is a basic points to pound ratio, Asda encourages you to earn your rewards in three main ways.
Buying 'star products'. This is the easiest way to earn yourself some quick vouchers. Products in-store will be marked with a star. You'll also find a list of star products in your Asda rewards app. Star products give you 10% of the value of the item back straight into your Cashpot. Keep an eye out for "super star" products which give you even more back! The branding both in-store and online is really clear and easy to understand, we love that you can instantly see the cash you'll get back. When the app first launched, there were often dedicated in-store aisles displaying popular star products, but running up to the holidays these aisles have gone back to season deals so the star buys are a little harder to find. You can still hunt around the store for the star label, but by far the easiest way to check the latest star products is through the app.

A few standout deals we've seen so far include £3 back when buying FIFA 23, £1 back when buying Bisto gravy 350g and even £1 for getting your private Flu jab at the pharmacy.

You can also grab all of these savings online, just look out for the Star Products icon when browsing the Asda site.
Using the Asda Money credit card. We haven't used this method ourselves, but you'll get 1% of the value back on everything when shopping at Asda and 0.3% back on any non-Asda purchases.
Completing 'missions'. These are extra ways to earn Cashpot savings and are usually based around hitting spending targets or shopping in certain departments. Some missions require you to spend a certain amount in store that month. We recently saw a milestone mission offering £1 back for spending £75 cumulatively in store. We wouldn't recommend actively increasing your spending just to hit these kinds of targets, you don't want to end up spending even more money!

Other milestones are much more reasonable, we managed to get £2 back after spending £25 on knitwear, which wasn't hard to do with the Autumnal weather coming in fast. Other examples include £3 when buying 3 bottles of sparkling wine, £2.50 back when spending £25 on toys and even bonuses after buying 15 packets of fruit & veg. These missions are valid over multiple store visits, so no one is expecting you to buy 15 packets of apples in one go!
Missions are added to the app regularly, so be sure to check your app before you shop!
Make sure you scan your card at the checkout to bank all the above savings and progress your milestones
I've got money in my Cashpot, now what?
All of your earnings from missions and spending will be shown as a balance in your Cashpot on the app. You can then choose to convert all of or part of this Cashpot into vouchers which you can use to claim money off your shop.
The pounds you earn in your Cashpot will expire after 6 months, so you will need to convert these savings into vouchers within this time to prevent losing the money. However, once you convert your Cashpot earnings into vouchers, these vouchers are only valid for 30 days. While you'll need to make sure you convert your cashpot to vouchers, make sure you do this if you know you'll be going back to use them within the next 30 days.
To claim your discounts, you'll need to scan your digital rewards card and then scan the individual vouchers at the checkout. Your savings won't automatically come off your next shop, you will need to make sure you remember to scan the vouchers. This allows you to pick and choose which vouchers to redeem and when, but does leave you open to forgetting to claim the discount (we managed to do this on one occasion). They can easily be used at the self checkout, there is a dedicated voucher section when going through the checkout process.
When shopping online your vouchers will come off your next shop automatically.
Our verdict
During our first shop after downloading the app, we spent £70 and earned £4 for our Cashpot. We did browse the Star Products section, but on the whole, didn't go out of our way to specifically buy products included in the promotion. Realistically, based on the general 10% Star Product cash reward, around £40 of our shop will have been on Asda Reward eligible items. Considering it usually takes a couple of months to earn this kind of reward at other supermarkets, this was an impressive return. The Cashpot was easy to convert to vouchers which we used on our next visit using the self service checkout. The selection of Star Products was reasonable, but it can be hard to not get drawn into buying unnecessary items just because they are marketed as Star Buys.
Other supermarkets may not offer this kind of easy visibility with their rewards, but with many offering personalised discounts and coupons in their apps, we can't say that the new Asda Reward scheme is worth swapping supermarkets for. However, if you are already a regular Asda shopper this adds a new way to grab yourself more savings and is a welcome addition to the Asda shopping experience.
#advice
#moneysaving

Comments
Have you tried the new Asda Rewards app? Share your thoughts with us below